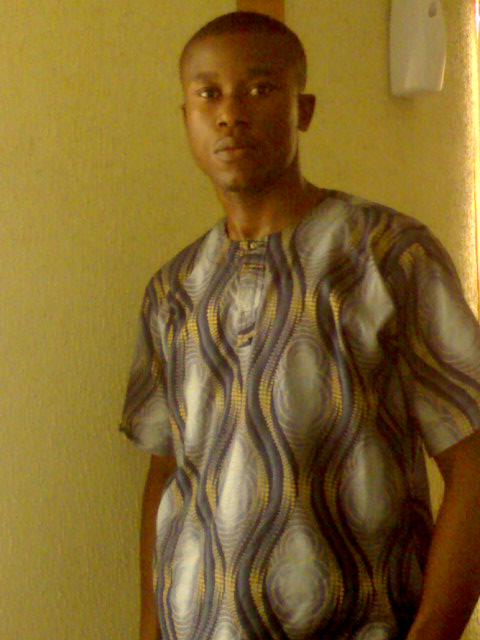 MY STORY BEGINS...
On the 28th day of May in the mid '80's, a bonny, bouncing baby boy (hmm, hope to retain that) who happened to be the last child of the family was born to the noble family of Mr. and Mrs. P. A Soyoye and on the seventh day as was the custom and it's still the custom, he was christened Timothy, Oluwatobi... Soyoye.He did so many naughty things while he was a baby (but he was an heartthrob) one of which was that before his first year birthday anniversary, he went to the medicine shelf, got 'multivite' (a sugar-coated tablet) for himself and started having a nice time by licking the tablet and releasing it out of his mouth only when it had lost its taste...His elder sister came in and took the tablets away from him, he was taken to the family doctor who said that there was going to be no serious side effects except that the family should make enough food available for him...(you know what that meant). Hey! Did you say I was wittering on about the naughty things I'd done? Well, let me move on to something else...

EDUCATION

I started my primary education at Iganmode Nursery and Primary School Sango-Ota after which I went to Omolabake Nursery and Primary School, also in Sango-Ota, Ogun state where I received awards such as the award for being 'the most well-behaved pupil, when I was in primary three and the award for being 'the best pupil in quiz competition, when I was in primary five. I also received an award for taking the first position in the 100m boys race. After my primary education, I proceeded to the secondary school for my secondary education. The secondary schools I attended includes:An-sar-ud-deen Comprehensive College, Sango-Ota (hey, did you say a muslim school? Well, I was a Christian and I'm still a Christian), Salawu Abiola Comprehensive High School, Osiele, Abeokuta and Macjob Grammar School, Onikolobo, Abeokuta where I was the Senior Prefect between October 2002 and May 2003 and also received an award for being, the best student in English Language.

Although, I'd attended Computer Engineering And Re-engineering Training Institute, Opebi, Lagos state for a diploma in Computer Engineering and I'd also done my IT (Industrial Training) with Chips, Bits and Bytes Limited, I intend proceeding to one of the best Universities (either in Nigeria or abroad) to study Electronics and Computer engineering. I intend becoming an ace computer engineer. I aspire to carve a niche for myself in the computer-engineering world. My dream is to become one of computer engineering all-time greats. So, this is just the beginning for me, the struggle continues and to myself and all others that wants to be like me; I say "ALUTA CONTINUA" and with our determination and trust in God, "VICTORIA ACERTA".

COOL SERVICES FOR YOU...

Although I've always been a sucker for technology, which explains why I want to be a computer engineer, I also have a penchant for surfing the internet as a result of which I've been nicknamed "webmaster" by some of my friends; it was during one of my exploration of the internet that I came across "tripod" which now hosts my "personal site" So, I've been thinking; maybe I should become a real webmaster in addition to being a computer engineer, and start developing websites for individuals and organizations as well as allowing individuals/organizations place advertisements on my websites which will not cost them much; since it's just something I enjoy doing; I'm putting up a site that will be focused on these...( http://couriernet.tripod.com ) So, if you're interested in any of my services, send an e-mail to web.master@soyoye.zzn.com or webmaster@couriermail.zzn.com . The first twenty clients get a discount of 20% while subscribers to any of the e-mail sites mentioned above gets a discount of 25%. You can as well tell your friends about these services and if they become my client, you will be given 10% of their payment as soon as they have fully paid; just tell them to mention your name in their letter to me. Hey! Did you again say that I've been wittering about my services? Well, that was important. Now, back to my description about myself.

OTHERS...

I'm a shy chap, about 5ft. 9inches tall,weigh about 63kg (186lbs), I live a very simple life and I don't try to be someone else; I'd rather prefer to be myself and have others wanting to be me. I really like people who are honest and never pretend to be what they are not; (just like me); I dislike hoity-toity people. Maybe that's why I'm comfortable hobnobbing with the hoi polloi rather than with the rich and famous.

HOBBIES

Apart from surfing the internet, I also enjoy doing some other things such as: playing the harmonica (mouth-organ), playing computer/video games, listening to good music, watching/listening to ace comedians, playing football (although, I'm not very good at it), making pen-pals etc.

MY WORDS...

Hey, did you ask me my present status? Did I hear you right, huh? Well, I'm kind of single... You know what? I would like a love-match, not a love-hate relationship cos I don't wanna be lovelorn.

Ooops! I'm dizzy with exhaustion of typing this stuff but if you still want to know any other thing about me, send me an e-mail,: web.master@soyoye.zzn.com ... Feel free to say/ask anything (heart-to-heart).

I've got to rest and treat myself to a nice cuppa now...but remember this... Life is full of challenges and disappointments but you're never a failure until you stop striving, so never give up on yourself...

PEACE-LIKE THE GENTLE BREEZE OF A COOL EVENING, PROSPERITY-LIKE THE VAST OF SKY ON A STARRY NIGHT... THESE ARE MY WISHES FOR ALL THAT HAVE GONE THROUGH THIS PAGE AND ARE DETERMINED TO TELL THIER FRIENDS ABOUT THIS SITE...
STAY COOL IN HIS PRESCENCE...